Apostille in Poland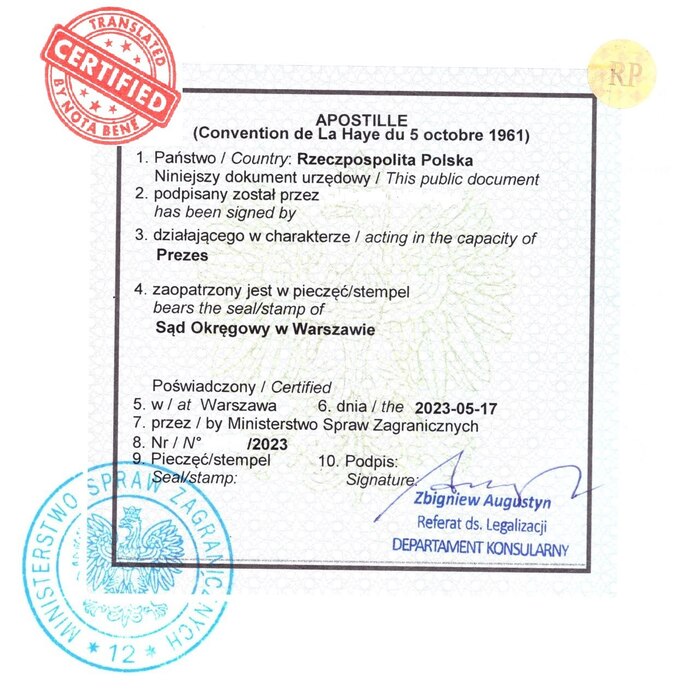 You are in Belarus and you require an Apostille stamp on your documents issued in Poland?
Nota

Bene is there to help!

NotaBene Translation Agency will help you get an Apostille stamp on your documents issued in Poland. All you have to do is mail your documents to us or bring them to our office in Minsk, and a few days later you will have them all ready.
No need to visit our office!
We work with clients from all over Belarus, and there is no need for you to visit our office to place an order for translation or have your documents Apostilled.
The procedure is simple:
Send us scans or photos of your documents to be Apostilled to info@notabeneby.com. Please provide any additional information that you believe we may need.
Our manager replies within an hour, confirms receipt and offers you our fees and deadlines.
You confirm your order; the manager sends you details for making a down payment and asks you to send a payment confirmation. Once you have paid, the order is considered accepted and we begin working on it.
After that you need to bring the original copy of your document to our office in Minsk or send it to us by courier to the address: Office 209, 1 Olesheva Street, Minsk 220090. Before sending it, please take a picture of the envelope and write your phone number on it to help us identify your order. Please do not send your valuable documents by regular mail, as it is not the most reliable delivery option.
We send the document to Poland and request relevant authorities to Apostille it.
You pick up your documents at our office in Minsk or we send them to you by courier.
You can do this without visiting Poland.
What does the Apostille service in Poland embrace?
We will take care of all formalities for you — we request a preliminary procedure to verify the seal and signature of a notary (Uwierzytelnienia dokumentu) at the District Court of Warsaw, make an appointment at the Foreign Ministry, fill out all necessary forms, pay the state fees, get Apostille stamps on all personal or corporate documents. We also deliver sworn translations of all types of documents, if you need them.
*Please note: Apostille is only placed in the country where a document is issued (for Belarusian documents — in Belarus, for Polish documents — in Poland, etc.).
What kinds of documents are subject to Apostille?
Apostille stamps are normally placed on personal or corporate documents issued by the Polish state authorities. The most common cases include:
Certificates of marital status, birth, death and marriage, court rulings;
Documents from the National Criminal Register (KRK), including certificates of no criminal record, or court orders concerning a company, certificates of conviction;
Notarized documents (deeds, powers of attorney, protocols);
Qualification certificates, including school certificates and university diplomas, copies, duplicate copies, and appendices;
*Please note: the procedure of placing an Apostille stamp on educational documents depends on the educational institution that issued the document and may differ significantly from one institution to another. Please ask our managers for more information about the possibility of Apostilling such documents.
Commercial contracts, invoices, import and export consignment notes, copies of certificates from the National Court Register (KRS) and the Central Register and Information on Economic Activity (CEIDG).
Furthermore, Apostille may be affixed to a sworn translation of a document into a foreign or the Polish language to make it valid abroad 
What is the procedure for obtaining an Apostille?
The document legalization procedure is not complicated, but it takes quite a lot of time.
For example, you need to have an Apostille on a power of attorney issued by a Polish notary to make it valid abroad. Below is the breakup of your time and costs, if you decide to act independently. Steps to take, time each phase takes, and fees to pay:
conduct an online search for the address of the Apostille issuing authority, plan your route, and schedule your visit (at least 1 hour);
make several phone calls to relevant bodies to find out details of the procedure and work schedule (at least 1 hour);
pay a visit to the district court, produce your document to authenticate the notary's signature and stamp (at least 2 hours);
pay a second visit to the district court to collect the document with the statement of certification (at least 2 hours);
*Please note: the district court-related service is available in Warsaw and Gdansk. An additional PLN 150 is charged for the service.
make an appointment at the Ministry of Foreign Affairs via a special form, choose a suitable date and time (at least half an hour).  You may often be unable to make an appointment at all, or the system will show you dates only in a few weeks' time;
fill in an application form for the Ministry of Foreign Affairs to have an apostille for official documents intended for international use (at least half an hour) — it must be printed out, and you must have it on paper;
visit a banking outlet or a post office to pay the state duty (about 1 hour). You may pay online using your personal account with your bank, but you will also have to print out the payment confirmation
pay a visit to the Ministry of Foreign Affairs at the appointed day and time, stand in line and finally get your document with the Apostille stamp(at least 2 hours).
We take all the trouble for you. Moreover, you will have your Apostille stamp a lot faster, because we almost always have booked dates and time slots for visits to the Ministry of Foreign Affairs. But the main thing is that you will not need to pay for a visit and stay in Poland!